Detergenti, detersivi, prodotti per la pulizia e prodotti chimici vengono spesso confezionati in contenitori a base quadrata o rettangolare.
I flaconi quadrati hanno infatti forme e caratteristiche tecniche che ne facilitano la manipolazione, soprattutto se si tratta di contenitori di grandi capacità, e rappresentano un ottimo strumento di marketing per valorizzare il prodotto in essi contenuto.
Confezionamento "ad hoc" per contenitori quadrati e rettangolari
Per il confezionamento di contenitori rigidi a base quadrata o rettangolare, come briks, pacchi, fardelli e clusters (con appositi accessori opzionali si possono confezionare anche contenitori cilindrici) SMI ha lanciato "ad hoc" la serie AFW (Angular Film Wrapper)ERGON di confezionatrici in film termoretraibile con ingresso a 90°.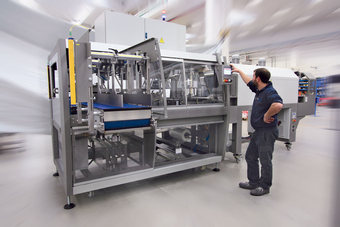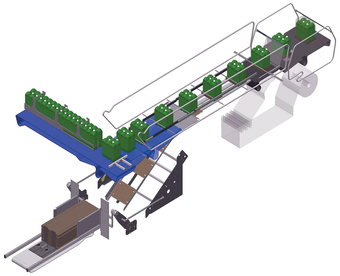 Confezionamento fluido e continuo
La confezionatrice è dotata di un ingresso perpendicolare a L rispetto al senso di marcia del prodotto sul piano di lavoro, che assicura un confezionamento fluido e continuo anche in presenza di contenitori dalla forma particolare o con accentuata instabilità nel movimento; questa soluzione garantisce l'ottimale flusso del prodotto sfuso incanalato in arrivo dalla linea di produzione, in modo da realizzare la configurazione di pacco selezionata senza intoppi o interruzioni.
Massima flessibilità operativa
Le confezionatrici della serie AFW ERGON raggiungono velocità di produzione fino a 40 pacchi per minuto, in funzione del modello di macchina e del tipo di prodotto da trattare. Sono adatte ad imballare un'ampia gamma di contenitori in un numero elevato di configurazioni differenti, in modo da rispondere efficacemente alle mutevoli esigenze presenti e future dell'utilizzatore finale.
Detergents, cleaners, cleaning and chemical products are often packed in containers with a square or a rectangular base.
Containers with a square base have in fact shapes and technical features that make the handling easier, especially in case of high capacity containers, and represent a great marketing tool that gives value to the product they contain.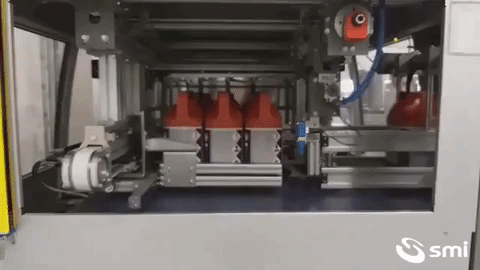 DISCOVER THE AFW ERGON RANGE
Ad hoc packaging for square and rectangular containers
For the packaging of rigid containers with a square or rectangular base, like briks, packs and clusters (even cylindrical containers can be packed by means of specific optional equipment), SMI launched the AFW (Angular Film Wrapper) ERGON range of film shrink wrappers with 90° infeed.
Smooth and continuous packaging
The packer is equipped with a perpendicular infeed, L-shaped compared to the product movement direction on the worktable, that ensures a smooth and continuous packaging, even in case of containers with a particular shape or with a great movement instability; this solution ensures the optimum flow of the loose product channeled that arrives from the production line, in order to create the selected pack configurationwithout hitches or interruptions.
Maximum operational flexibility
The packers from the AFW ERGON range reach production speeds up to 40 packs per minute, according to the machine model and the type of product to be worked. They are suitable for packing a wide range of containers in several configurations, in order to effectively meet the current and future final user's needs.